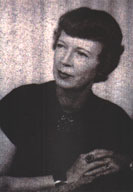 Virginia Hansen dedicated her life to being the best teacher possible for the children in her care, and as a cooperating teacher, she helped numerous student teachers hone their knowledge and skills in the classroom. The Virginia Hansen Endowment fund was established in the School of Education through the generosity of Mr. Victor Hansen. It is intended to honor the work and memory of Mrs. Virginia Hansen.
Upon entering the Hansen Curriculum Room up on the 5th floor of the University Library (KEL 5106), you will notice that the materials in that room are arranged differently than in the rest of the library. Please watch this short video on how to find a book in the curriculum room: "How to Find a Book"
Virginia Hansen Curriculum Workroom Policy
The Virginia Hansen Curriculum Workroom is a place where School of Education (SoE) and Speech Language Pathology (SLP) students can access die cuts, laminating machine, butcher paper, and other curriculum equipment/materials. With current faculty ID cards, SoE and SLP faculty are welcome to check out the key to the Virgina Hansen workroom from the 3rd floor Checkout Desk. SoE and SLP faculty are responsible for the proper use of workroom materials and must be present in the workroom with their students at all times.
There is no food or opened drinks allowed in the Virginia Hansen Curriculum areas. All drinks must be in spill-resistant beverage containers.
If you have questions about this workroom policy, please contact the School of Education: (760) 750-4300
Hansen Workroom (KEL 5104) Hours
Please contact your SoE/SLP instructor to make arrangements to use the workroom. Only SoE/SLP faculty can checkout the key to use the room; students are not permitted to check out the workroom key.